We are delighted to introduce the
Immun-Ocean range of horse supplements from KSB Equine
- an all-natural, competition-safe range of supplements, bursting with nutrients thanks to their key ingredient - Irish macro algae!
All Immun-Ocean products contain
Ascophyllum nodosum
, sustainably harvested by hand on the Atlantic Irish Coast. This wonderful seaweed is naturally high in selenium, zinc, copper, calcium, omega 3 and MSM, and is a great immunity booster. The hand-harvesting method is not only less intrusive to the environment, but allows the highest quality seaweed to be selected.
Many products in the range also contain
Lithothamnium calcareum
, a red algae belonging to the Corallinaceae family. It grows extremely slowly, giving it time to filter and absorb large quantities of sea nutrients. Lithothamnium provides a rich supply of minerals including 32 trace elements.
All Immun-Ocean supplements are beneficial for digestion, immune-function and hoof growth. Immun-Ocean is a premium product. All their products are complete supplements so feeding Immun-Ocean can prove more cost effective than feeding multiple supplements for individual conditions. Each 5kg tub contains 100 daily servings, with prices starting at just 50p/day for Immun-Ocean Pure.
Available Products: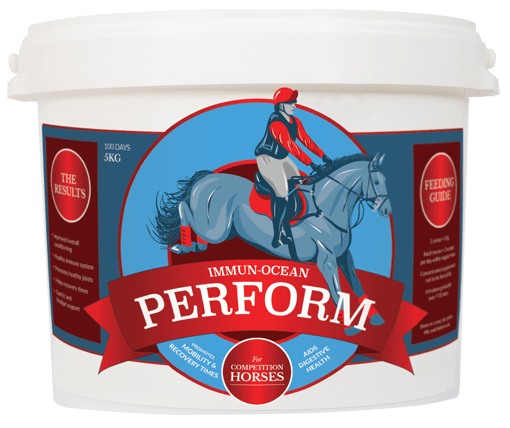 Perform
Contains all the nutritional benefits of Pure, plus added Lithothamnium to help reduce stress reaction, improve recovery times and provide gastric and hind gut support.
Containing a combination of Vitamin B12, iron and amino acids, Pro-Globin Plus is a 20-day blood tonic treatment, designed as a pick-me-up to help horses recover from fatigue associated recovery from virueses or competition. The key ingredient Vitamin B12 is known to help with symptoms of fatigue, muscle ache, muscle weakness, joint pain and poor appetite.
The full 20 day courses reaches 10% of the BHA threshold for cobalt. KSB Equine recommend this as an occasional-use product rather than year-round, and advise leaving at least three days withdrawal before competition.